---
High Gloss Acrylic Laminate Sheet
High-gloss acrylic sheet is one of the main products of TaFuChi Plastic. It is widely used in kitchenware cabinets. Compared with traditional materials, High-gloss acrylic sheet is not only exquisite in style, bright in surface color, light in weight, durable usage and environmental friendly. One of the main features of High-gloss acrylic sheet is mirror-like of the surface which is beautiful and fashionable. TaFuChi high gloss acrylic with its egdebanding created a seamless panel which can prevent to absorb moisture.

In addition, the product has strong adaptability to the natural environment, and its performance will not change after long-term exposure to sunlight, wind and rain. It can be refreshed as long as it is wiped with soft foam and toothpaste. In addition, our high-gloss acrylic sheet has high-quality characteristics of UV resistance and abrasion resistance. Also, we produce acrylic edge banding and materials for panels. TaFuChi has devoted to produce high-gloss acrylic sheets for more than 15 years, with stable quality. We provide customers with 21 standard colors and other special colors. At the same time, we also develop new colors and patterns to continuously meet current trends and individual needs of different tastes.

TaFuChi is a specialized manufacturer of customized plastic sheets. We have exported our products all over the world. We also provide many processing services, such as computer color matching, weathering resistance, precision cutting, CNC machining, panel lamination, vacuum forming, printing, back-coating, stamping and so on. For more detailed information about the products and any questions about sample requirement and inquiry, please feel free to contact us and we will reply as soon as possible. TaFuChi experienced in the various material application and has continued to devote time and effort to develop the properties of plastic materials and helped to solve customers' problems in material processing. Feel free to contact us at any time, we are looking forward to cooperating with you!
High Gloss Acrylic panel
Applications
Kitchen panels, Kitchen cabinets, Bathroom cabinets, Furniture, Closet, Wardrobe
Features
High impact strength.
Good forming ability.
Excellent glossy surface.
Pattern Range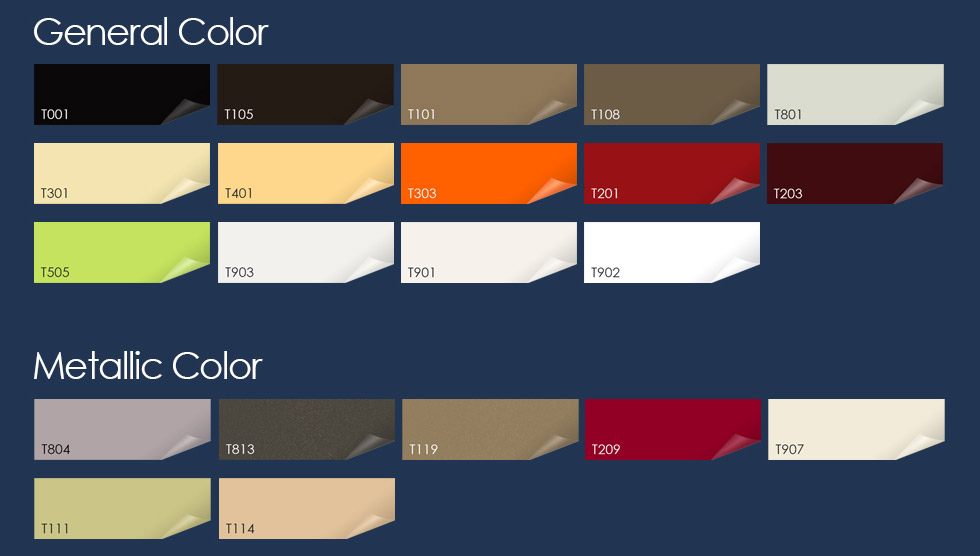 Specification
Thickness
Length
Width
Color
Specification
0.8mm
1.0mm
1.2mm
1.5mm
2440mm
1220mm
21 Colors
Scratch Resistant
UV Resistant
2800mm
1250mm
Custom Color
2450mm
Custom Size
Related Products

---

The acrylic edge banding can perfectly makes high-gloss acrylic panels without any edges, giving a mirror-like look to both the surface and the door edges. Six-sided seamless door panel with bright colors on the surface is light in weight and environmental friendly. Also, the acrylic edge banding has good weather resistance even if it is exposed to sunlight, wind and rain for a long time, the performance of acrylic will not change.In addition, Acrylic edge banding have high quality characteristics of abrasion resistance, practicality, aesthetics and fashion. Acrylic edge banding is widely used in kitchenware panels. TaFuChi has been dedicated to high gloss acrylic panels and acrylic edge banding for more than 15 years, providing customers with 21 standard colors and other special colors. We also continuously develop new colors to meet the current trends and individual needs of different tastes.TaFuChi is a specialized manufacturer of customized plastic sheets. We have exported our products all over the world. We also provide many processing services, such as computer color matching, weathering resistance, precision cutting, CNC machining, panel lamination, vacuum forming, printing, back-coating, stamping and so on. For more detailed information about the products and any questions about sample requirement and inquiry, please feel free to contact us and we will reply as soon as possible. TaFuChi experienced in the various material application and has continued to devote time and effort to develop the properties of plastic materials and helped to solve customers' problems in material processing. Feel free to contact us at any time, we are looking forward to cooperating with you!

---

---

Acrylic composite board is a combination of ABS and PMMA, which has good forming conditions and high gloss mirror surface. ABS sheet has three physical properties of Acrylonitrile, Butadiene and Styrene with good impact resistance, heat resistance, rigidity, processability and thermo-plasticity. PMMA has good weather resistance and processing performance. The acrylic surface has mirror-like effect and looks fashionable.The combination of ABS and PMMA has created a result that one plus one is greater than two. The product can be applied outdoors and widely used in interior decoration materials, furniture, various shells, automotive industry materials, luggage cases, kitchenware cabinets, etc.TaFuChi is a specialized manufacturer of customized plastic sheets. We have exported our products all over the world. We also provide many processing services, such as computer color matching, weathering resistance, precision cutting, CNC machining, panel lamination, vacuum forming, printing, back-coating, stamping and so on. For more detailed information about the products and any questions about sample requirement and inquiry, please feel free to contact us and we will reply as soon as possible. TaFuChi experienced in the various material application and has continued to devote time and effort to develop the properties of plastic materials and helped to solve customers' problems in material processing. Feel free to contact us at any time, we are looking forward to cooperating with you!

---

---

Acrylic is one of the common plastic materials in daily life, and its official name is polymethyl methacrylate. Acrylic has good light transmission, chemical stability, weather resistance and beautiful appearance. Because of weather resistance and acid resistance, acrylic sheet will not be yellow or hydrolysis phenomenon due to sun or rain. Acrylic sheet's impact strength is 16 times that of ordinary glass. Light transmission of acrylic is up to 92% which is higher than the glass. Therefore, acrylic is the best material to replace glass.The density of acrylic is half that of glass, but it is not as strong as glass and metal. It is suitable for multi-purpose use. Acrylic has good insulation and is suitable for various electrical equipment. Acrylic is light weight which is half that of general glass so it is easy to move. Also, acrylic can be recycled which reduces environmental issues. The extrusion process of acrylic sheet is that the raw material particles are extruded by screw. The thickness tolerance of acrylic sheet is less than Cast Acrylic. The production process time of acrylic sheet is shorter than Cast Acrylic. Acrylic is often used in advertising, construction, transportation, home furnishing, automobiles and so on.TaFuChi is a specialized manufacturer of customized plastic sheets. We have exported our products all over the world. We also provide many processing services, such as computer color matching, weathering resistance, precision cutting, CNC machining, panel lamination, vacuum forming, printing, back-coating, stamping and so on. For more detailed information about the products and any questions about sample requirement and inquiry, please feel free to contact us and we will reply as soon as possible. TaFuChi experienced in the various material application and has continued to devote time and effort to develop the properties of plastic materials and helped to solve customers' problems in material processing. Feel free to contact us at any time, we are looking forward to cooperating with you!

---

---